Nagasumi's Mother

Name in Japanese
永澄の母
Rōmaji Translation
Nagasumi no Haha
Debut (Anime)
Episode 01
Appears in
Anime
Voice Actor (Japanese)
Noriko Namiki
Voice Actor (English)
Lydia Mackay
Personal Info
Gender
Female
Race
Human

Nagasumi's mother (永澄の母, Nagasumi no Haha?) could be said to lack self-respect and lacking a firm moral base. Current events in her life have caused her interest towards her husband to gradually die out, but overall she loves her family dearly. She is often seen to hit her son when she thinks his imagination is going wild. She is a failure of a mother who often blames her son for not being good, without doing anything to help him out.She also greatly enjoys having Sun and Lunar living with them, treating them like family as well as the "daughters" she never had.
Her personality can be a bit irritating, and she's not the best wife out there, her over caring attitude towards Masa often gives her husband headache, but she doesn't seem to care about this. She's not really a likeable character because of this.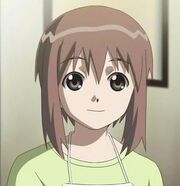 Appearance
Nagasumi's Mother is an average height woman and is quite skinny. She has light brown and Gray eyes she is mostly seen wearing a purple shirt with a yellow apron on her upper body while wearing a red skirt and purple shoes for her Lower. Although throughout the series she has been seen wearing different outfits bit this being her most commonly seen.